Low Impact Paintball Game Systems
Sure Shots Low Impact Paintball Games were designed to be used in Family Entertainment Centers, Roller Skating Rinks, Indoor Soccer Facilities & Reball Fields.
Each Sure Shots Low Impact Paintball Game System:
No Messy Paint Mess to Clean
is Easy to Set Up & Take Down

(completely portable)

uses 50 Caliber Reusable Paintballs

(less bruising & no mess)

uses Electronic Score Keeping Vests

(works just like Laser Tag)

helps your business take full advantage of

the demand for Paintball & Laser Tag Games

reuse balls over and over (reuable)
Take a close look at Sure Shots Low Impact "Paintless"Paintball....It just could be the additional profit center you have been looking for!
This is the New Profit Center you are looking for!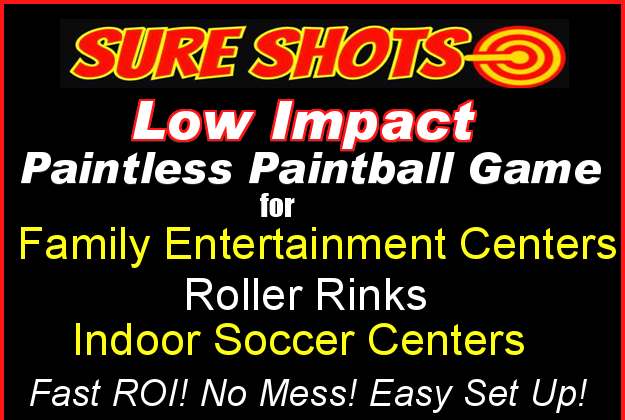 Give us a Call at 304-893-6286 or Contact Us by Email for more information about The Sure Shots Experience.